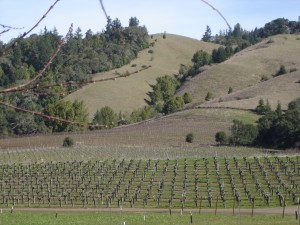 By Kareasa Wilkins
The bucolic, yet tortuous Highway 128 snakes through the sleepy towns of Boonville, Philo, and Navarro—towns known for their slow-paced way of life, and for the cool northerly climate that supports California viticulture at its extremes. Anderson Valley is perhaps the only California AVA that specializes in the aromatic white wines most commonly associated with Alsace, and the annual Alsace Varietals Festival is a grand affair for showing off the amazing depths these wines can reach in this region and beyond. Low on the radar for most wine connoisseurs, the Alsace Varietals Festival in Anderson Valley is probably one of the most neglected, yet enjoyable tasting events in California. Held every February at the Mendocino County Fairgrounds in Boonville, the event brings together producers of Riesling, Gewürztraminer, Pinot Gris, Pinot Blanc, and Muscat from around the world.
The event always kicks off with a morning educational seminar that often includes technical information on growing and producing Alsace varietals led by fermentation science professors from UC Davis, tasting flights, and sessions on food and wine pairings put together by renowned chefs, wine writers, sommeliers and cookbook authors. This year's event will feature John Winthrop Haeger, author of the upcoming book Riesling Rediscovered: Bold, Bright, and Dry. Following the morning seminars is a cooking demonstration featuring culinary whiz and former Anderson Valley resident, Chef Francois de Melogue. De Melogue, who has worked in celebrated restaurants from Paris to New York has an affinity for the food friendly Alsatian varietals, and shares delicious recipes to pair with the wines.
After the cooking demonstration, the grand tasting begins. Wineries from Anderson Valley are prominently featured, yet while local wineries represent a significant portion of the producers who showcase their wines at the festival, it is an international event, and exceptional examples of the classic Alsatian varietals can often be found from Oregon, New York, New Zealand, and, of course, Alsace itself. The grand tasting is accompanied by a profusion of classic food pairings for the wines, such as oysters, glazed pork belly, tarte flambeé, and choucroute alsacienne.
While the grand tasting ends at 4:00 p.m., the festivities continue well into the next day. In the evening, some restaurants and wineries offer winemaker dinners or special menus to pair with Alsatian varietals. This year, the Anderson Valley luminaries at The Apple Farm will offer a locally sourced organic feast to pair with Alsatian varietals, while Scharffenberger Cellars is presenting a private dining experience with the winemakers.   On Sunday, many of the local wineries open their doors to the public and provide food, music, special offers on wine, and an all around good time. For anyone looking for a memorable wine experience, The Alsace Varietals Festival in Anderson Valley is not to be missed.
For more information on the Anderson Valley Alsace Festival, go to http://www.avwines.com/alsace-festival/