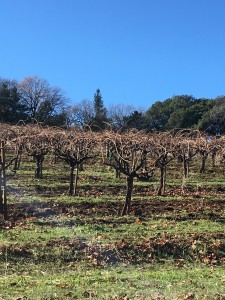 By Kareasa Wilkins
These days Napa Valley is hardly synonymous with anything but Cabernet. Indeed, California's most famous wine region has come to rest its laurels on its lush, powerful rendition of the Bordeaux varietal that has dazzled and delighted the critics and the masses. While a multiplicity of grape varieties once graced the slopes of Napa Valley, grapes considered "less noble" are constantly being uprooted for new plantings of the big money-maker. With the average Napa Valley Cabernet bottling being well-over $50/bottle, and ultra premium "cult" wines commanding astronomical prices, it's no wonder that many producers hardly dabble with alternatives beyond perhaps a Bordeaux-style blend or a white offering.
Needless to say, I was surprised at ZAP 2015, the annual Zinfandel Advocates and Producer's grand tasting, when the Zinfandels that stood out most to me, came not from the usual suspects in Sonoma's Dry Creek Valley and Russian River Valley (though there were a number of stars from those regions), but from a small vineyard within Napa's Howell Mountain AVA, the Black Sears Vineyard.
Howell Mountain is no exception to the Napa Cab craze. With names like Dunn, CADE, O'Shaughnessy, and Robert Craig, this AVA is clearly prime Cab country. Yet at the very tip top of Howell Mountain is a vineyard where Zinfandel shines just as bright as any of the brilliant Cabernets. The Black Sears vineyard, owned by Joyce Black and Jerre Sears is situated 2500 feet above the valley floor, and its unique geography and well-tended vines are generating some of the most distinctive Zins in the world.
I recently had the pleasure of speaking with Chris Jambois, Joyce and Jerre's son-in-law, who, along with his wife Ashley, oversees much of Black Sears' vineyard maintenance. Chris shared some of the reasons he believes Zinfandels from Black Sears Vineyard are so special. "This vineyard has so many unique soil types that professors from UC Davis and other top research universities are always coming to study it," says Jambois. "We're above the fog line, which produces warmer nights than are seen on the valley floor, though the  growing season usually starts a good 2-3 weeks later than the rest of Napa, and our Zins tend to be among the last to come in during harvest. Our Zins are dry farmed, and the wines that come from this vineyard are always incredibly complex and spicy. You get a lot of black and white pepper notes that you don't find in Zins from other regions." Jambois poured us a sample of the 2012 vintage, which was deep and brooding, and highlighted these qualities. The Estate Zinfandel is crafted by winemaker Thomas Brown, who took over the reigns after Ted Lemon left in 2006. Yet as exceptional as the Black Sears Estate Zin is, the quantity is limited. Of the 24 acres of grapes planted at Black Sears, only 17 are planted to Zin, and Jambois notes that they sell 75% of their fruit. Top producers such as Turley, Robert Craig, and T-Vine all have Black Sears Vineyard bottling of Zin. The vines at the Black Sears Estate are tended using biodynamic methods, and Jambois remarks that since they began farming this way in the early 2000s, buyers have really noticed improvements in the health of the vineyard and the quality of the fruit produced. This is important, particularly with Zinfandel, which can be difficult in the vineyard. "Zinfandel is a true artist's grape," says Jambois. "A lot of people talk about Pinot Noir being so challenging in the vineyard. But the same could be said about Zin. It's a notoriously uneven ripener, and it's prone to botrytis. It's really difficult to make a complex Zin, and only the true artists are successful at it." He also seeks to dispel common myths about the grape. "There are a lot of myths about Zin—that it can't be complex or elegant, that critics won't give it more than 95 points." Yet as the Black Sears Estate is demonstrating, when grown in optimal conditions and crafted in the hands of caring individuals, Zinfandel can be nothing less than extraordinary.
For more information about the Black Sears Estate, go www.blacksears.com
Black Sears Estate, along with many wineries that produce a Black Sears Vineyard Zin will be pouring at ZAP 2016. Find out more at www.zinfandelexperience.com